The Main Ward of Ambrosia's Vintage Teddy Bear Hospital is already full to bursting, so she has opened a second section! Here, you can look at even more wonderful repairs and restorations carried out by Ambrosia herself along with her bear friends. There is always something Ambrosia and her friends can do to help amntique or vintage teddy and animal friends, even if you think they are beyond help. Here are more examples of the treatments that teddy freinds have experienced. If you'd like your bear or animal friend to come along to Ambrosia Place, please just get in touch.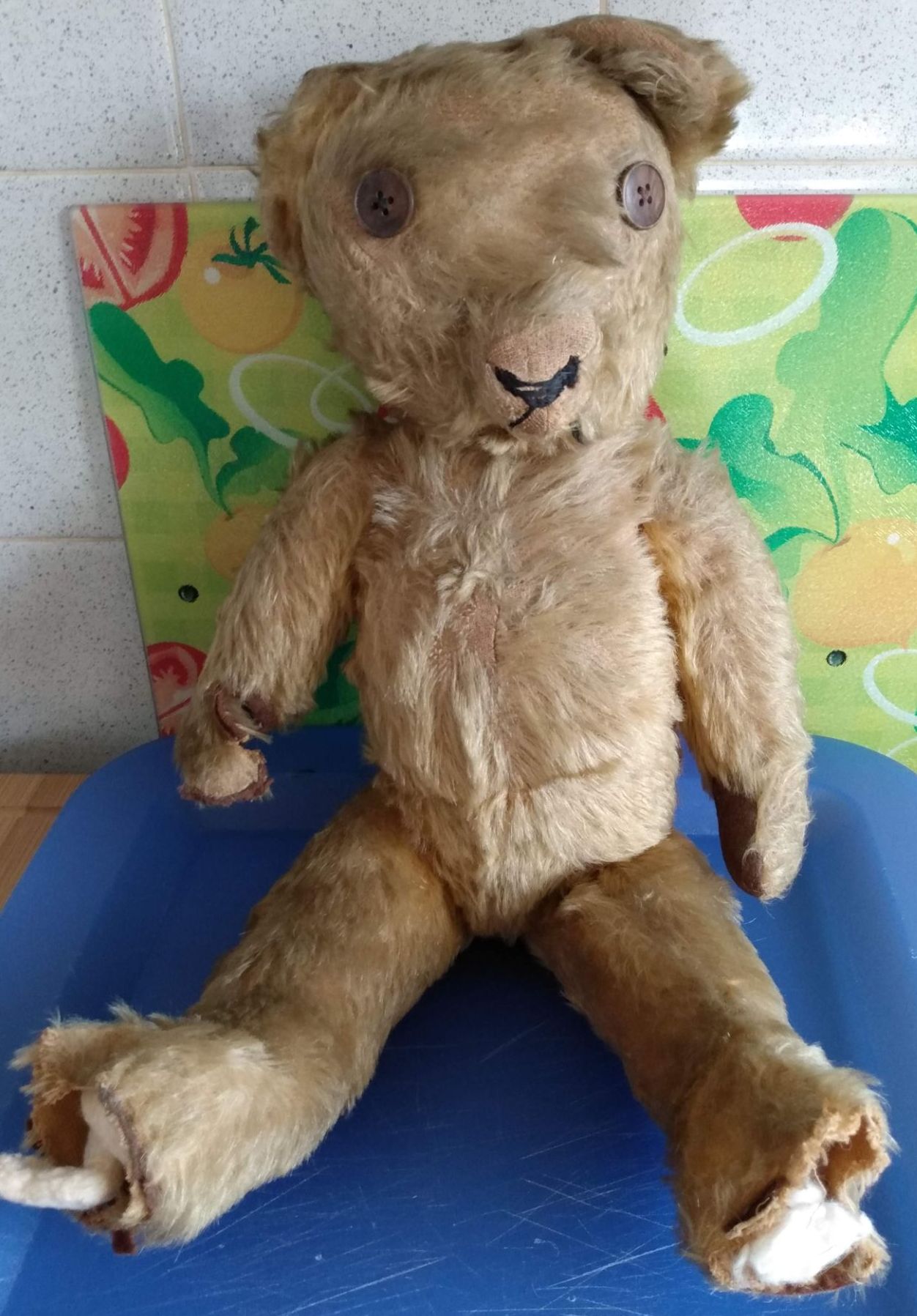 Ambrosia and her friends rushed to help when this poor teddy arrived. He may have looked in a right state, but Ambrosia and the others could see the hidden potential. They repaired his poor legs and right paw; then they added lovely new pads. Teddy had lost his voice, so an new growl was also in order. Then the real magaic was worked. Teddy was washed and washed until his fur sparkled, and then he was brushed to make him wonderfully fluffy again. Ambrosia carefully re-embroidered his nose and mouth following the original thread pattern, and gave him new glass eyes. They was a huge sigh of absolute wonder when everyone stood back to look at what they had done. Teddy and his oners were absolutely delighted when they saw him following his treatment!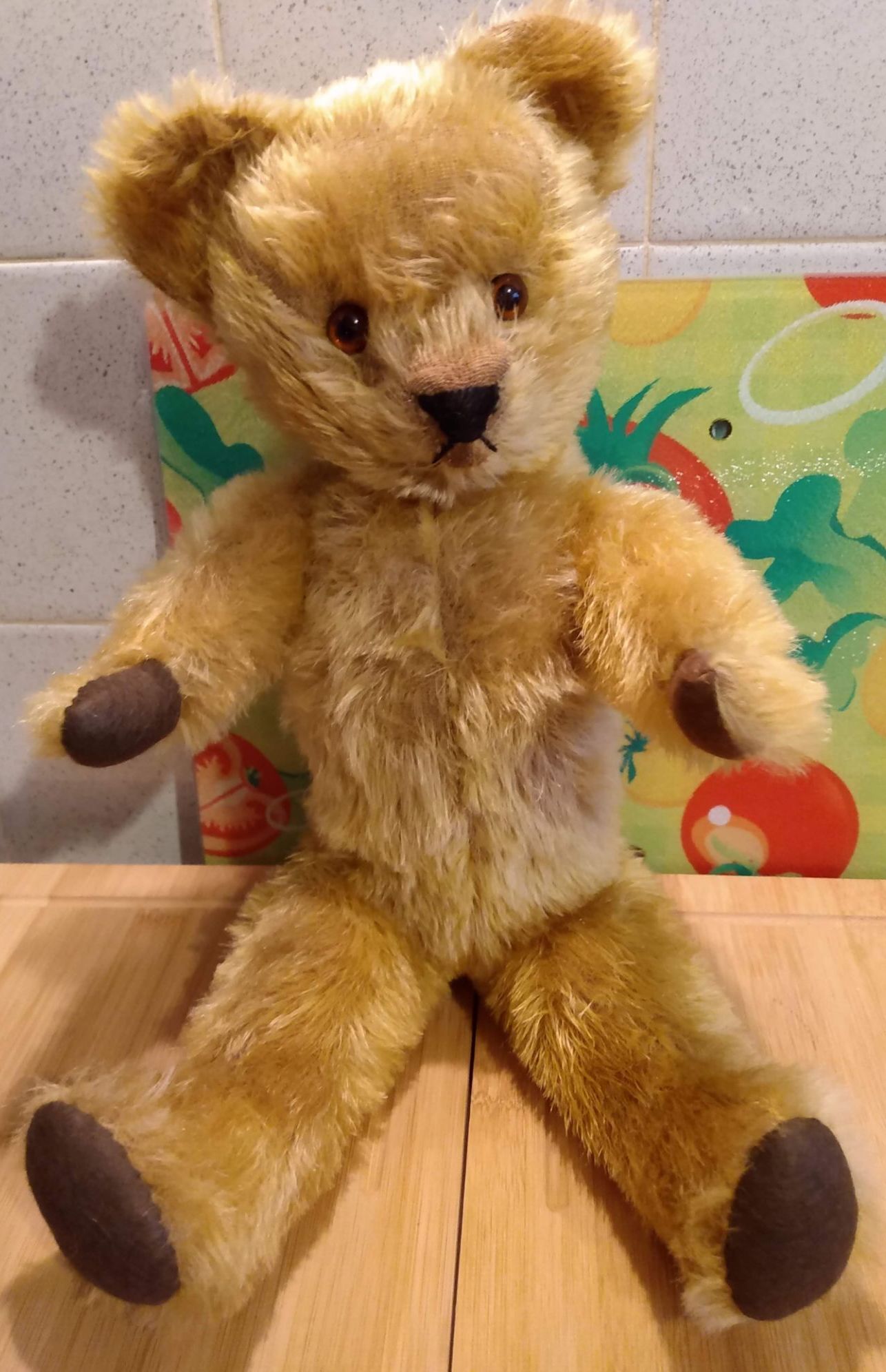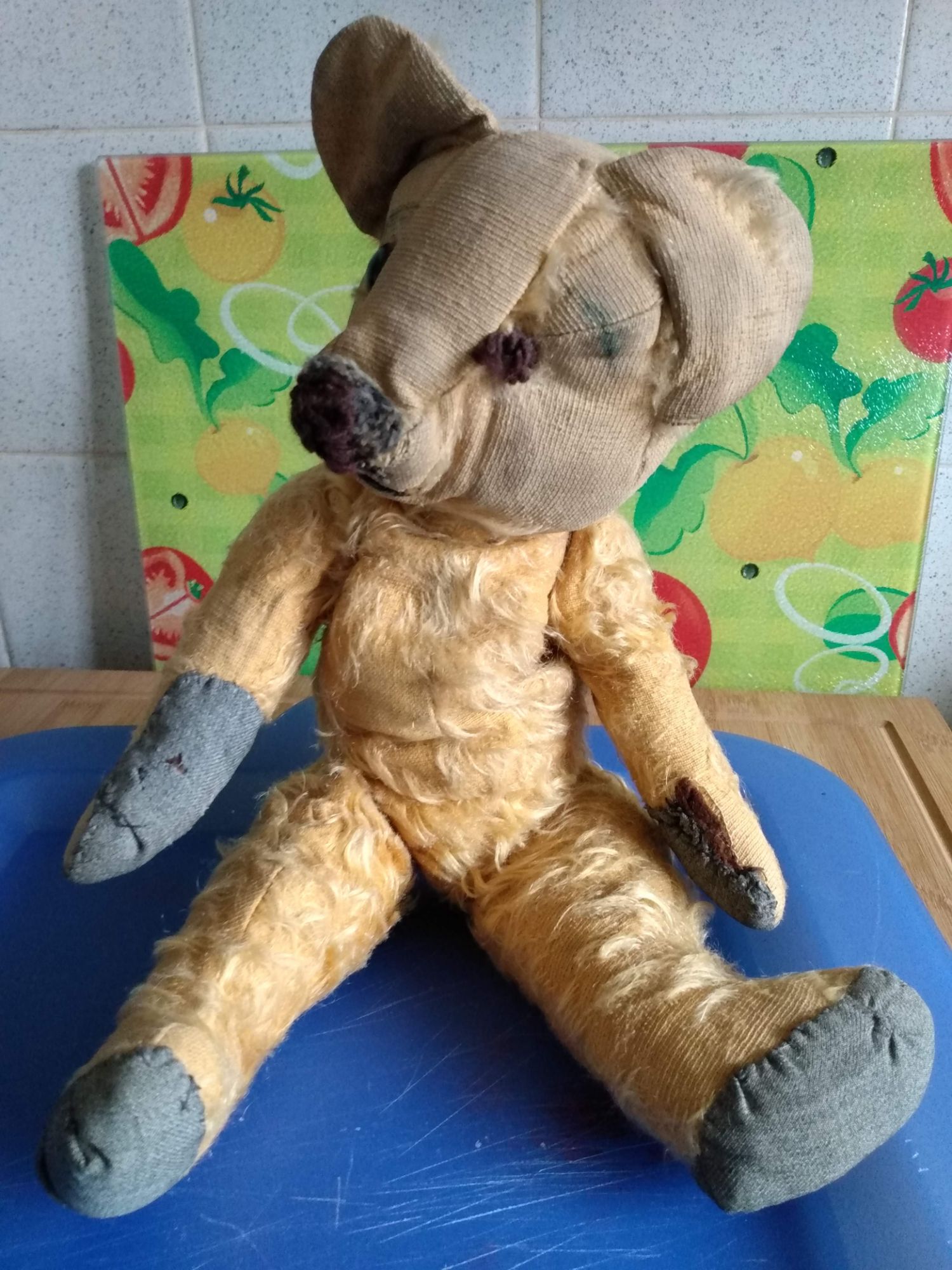 King John the Teddy was in need of quite a bit of assistance! His head had been sewn on crooked, his poor feet and hands were rather sore and he was feeling a bit floppy. The bears set to work. King John was given a new growl, he was fattened up, and he was cleaned. Next, Ambrosia found some beautiful new glass eyes for him, and re-embroidered his nose. His head was put back on properly and then they all set to work on his pads. The home repairs were removed, and he soon had some lovely new ones! He felt extremely kingly again after his royal treatment!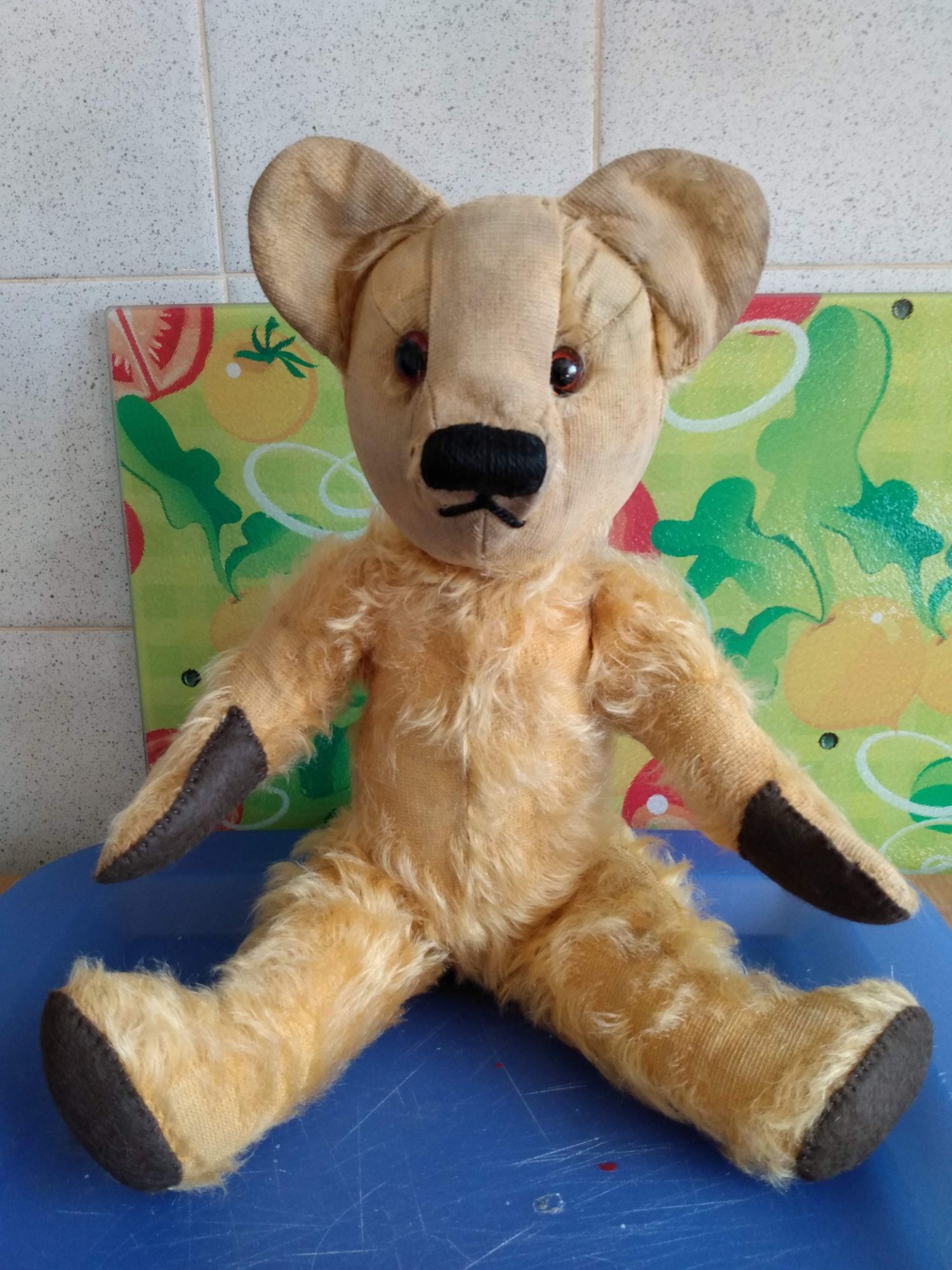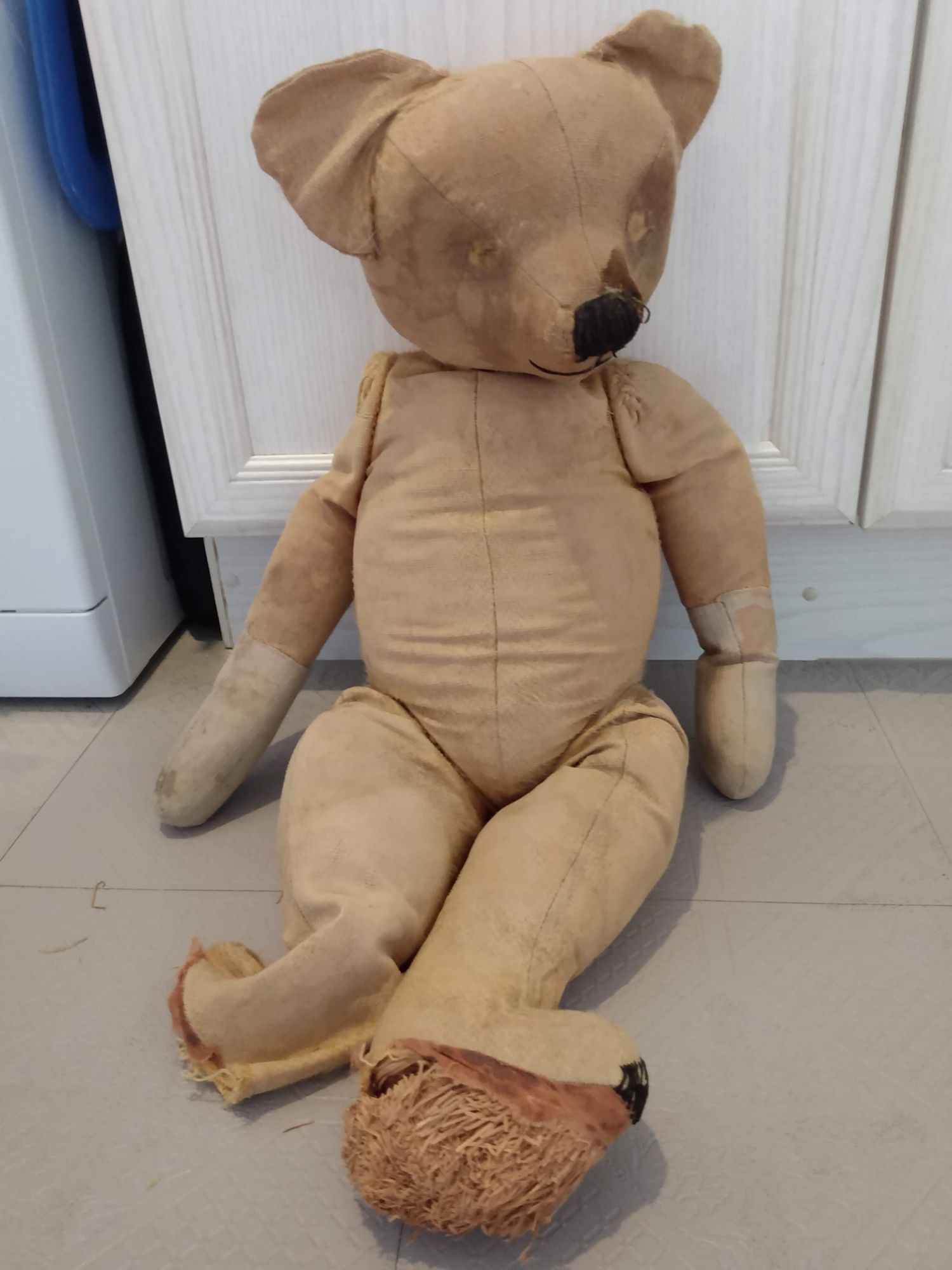 Old teddies always seem to have problems with their hands and feet, and this bear was no exception! The stuffing had almost gone from his right leg, and it was pouring out of his left. He'd also lost stuffing from other parts of his body, and his eyes had disappeared at some point along with his growl. Ambrosia and her friends set to work immediately. Poor teddy's left foot was made all sweet again, and his right was filled once more. He was given new foot pads but he wanted to keep his hands just as they were. He was given a new voice and Ambrosia found some lovely glass eyes for him. He did feel so much better afterwards!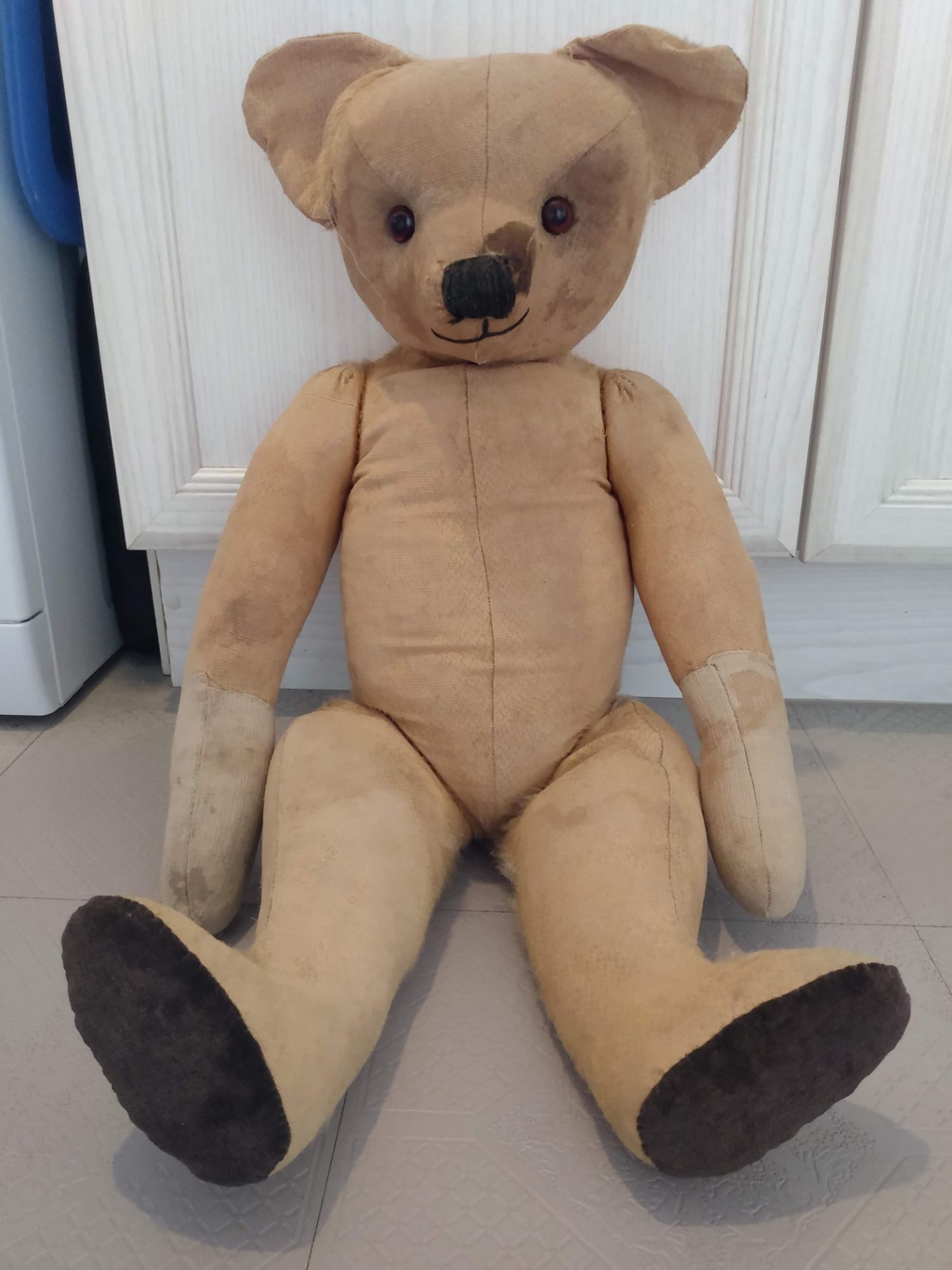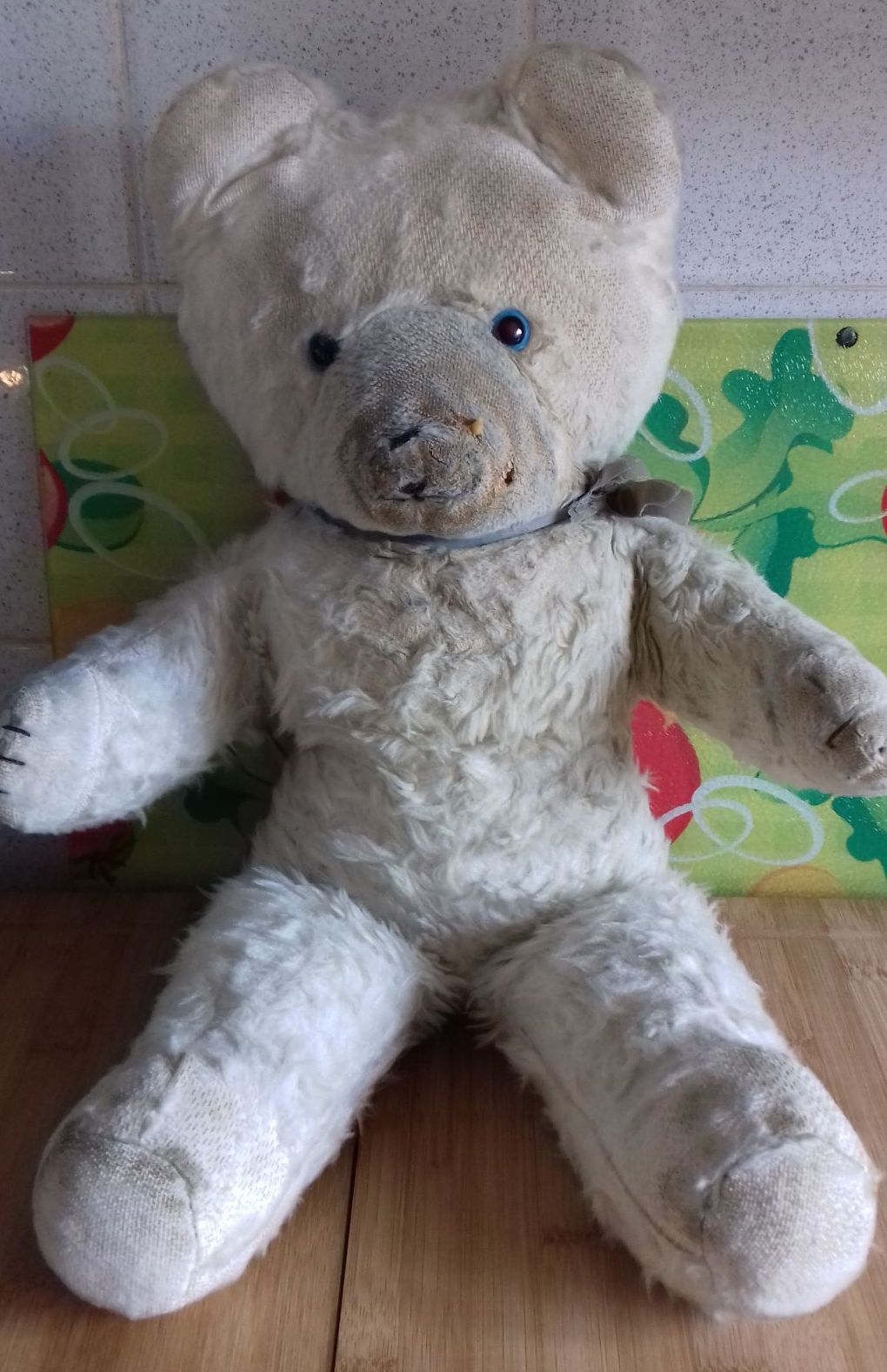 Sometimes, just the simplest of treatments at Ambrosia Place can have the most amazing effects. This gorgeous WEndy Boston teddy simply needed a really good splash in the huge bubble tub and a good brush. His muzzle had been kissed so much that it was disintegrating, so Ambrosia covered his poor face with newmaterial and then very carefully embroidered a new nose and mouth. Teddy couldn't believe his eyes when he saw himself in the mirror!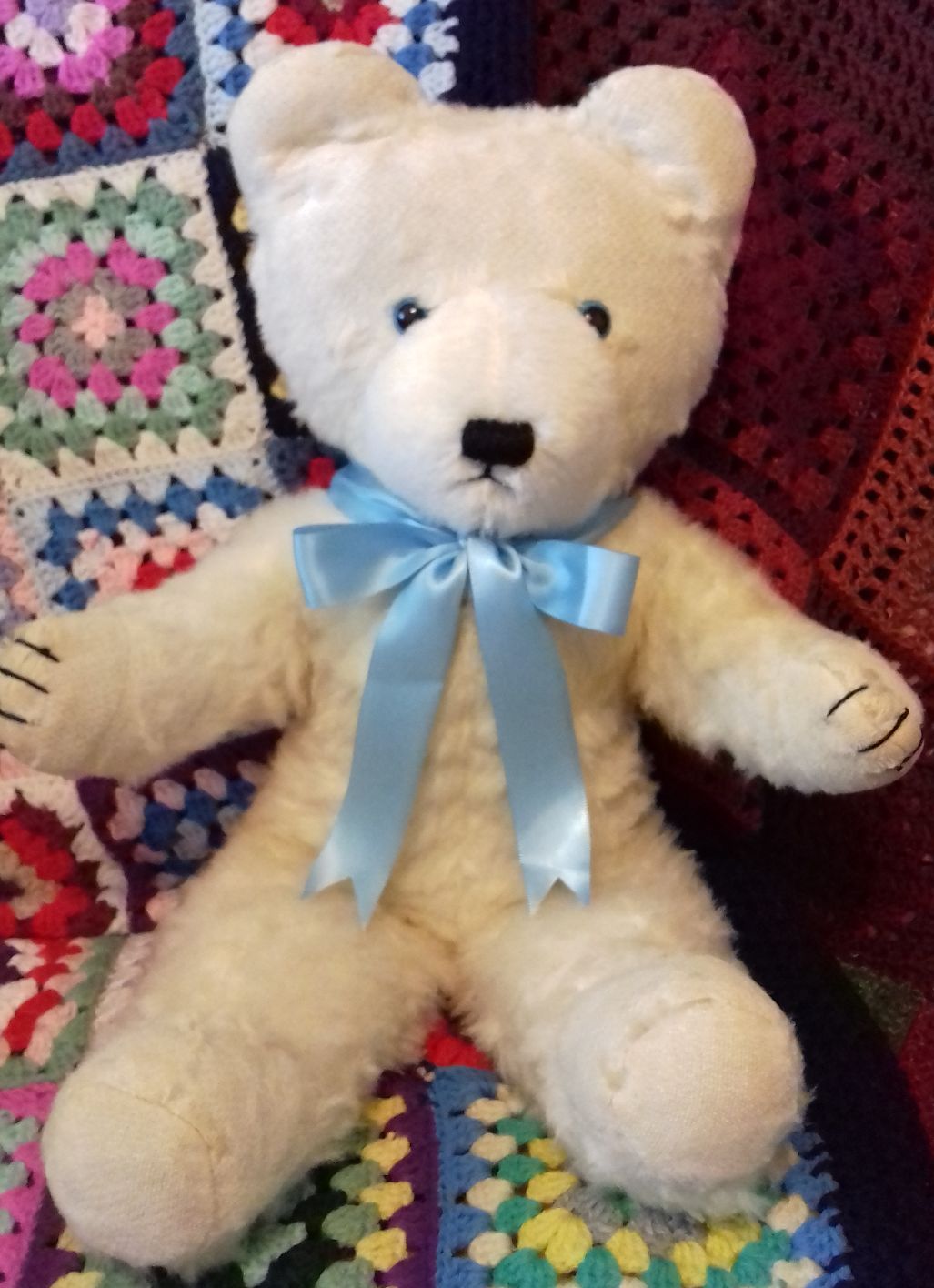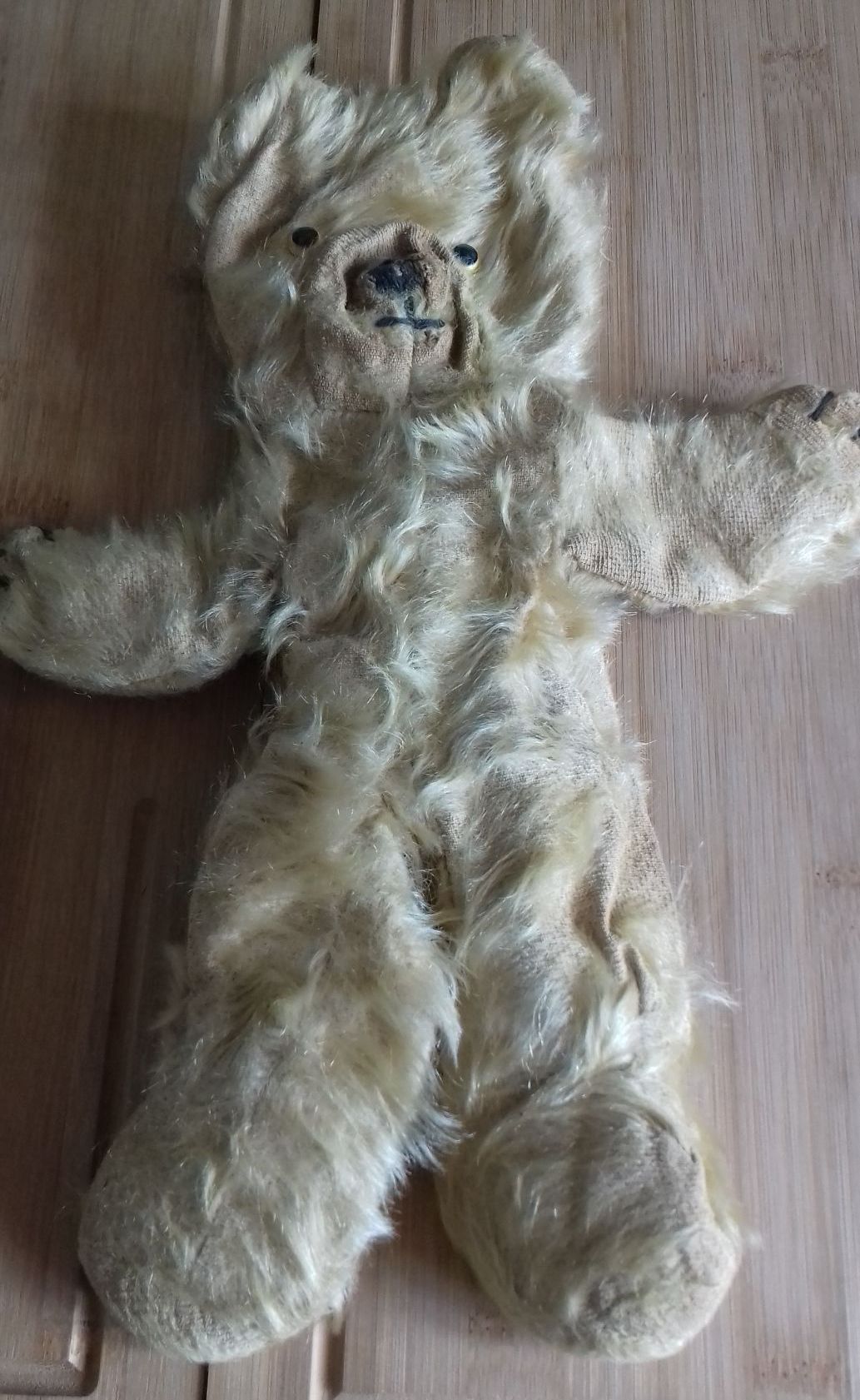 And another Wendy Boston came for osme help. These bears are often filled with a nasty, degraded foam which is quite literally toxic. This poor teddy had become alomot compoletely flat as a result. The bears removed the horrible stuff, gave him a wonderful bubble bath in the huge tub, and then filled him with fresh clouds. His muzzle, just like the bear above, had been kissed so much that there was practically nothing left. Ambrosia soon made bhim feelbetter again. He was astonished when he saw his new, handsome self in the mirror following his treatment!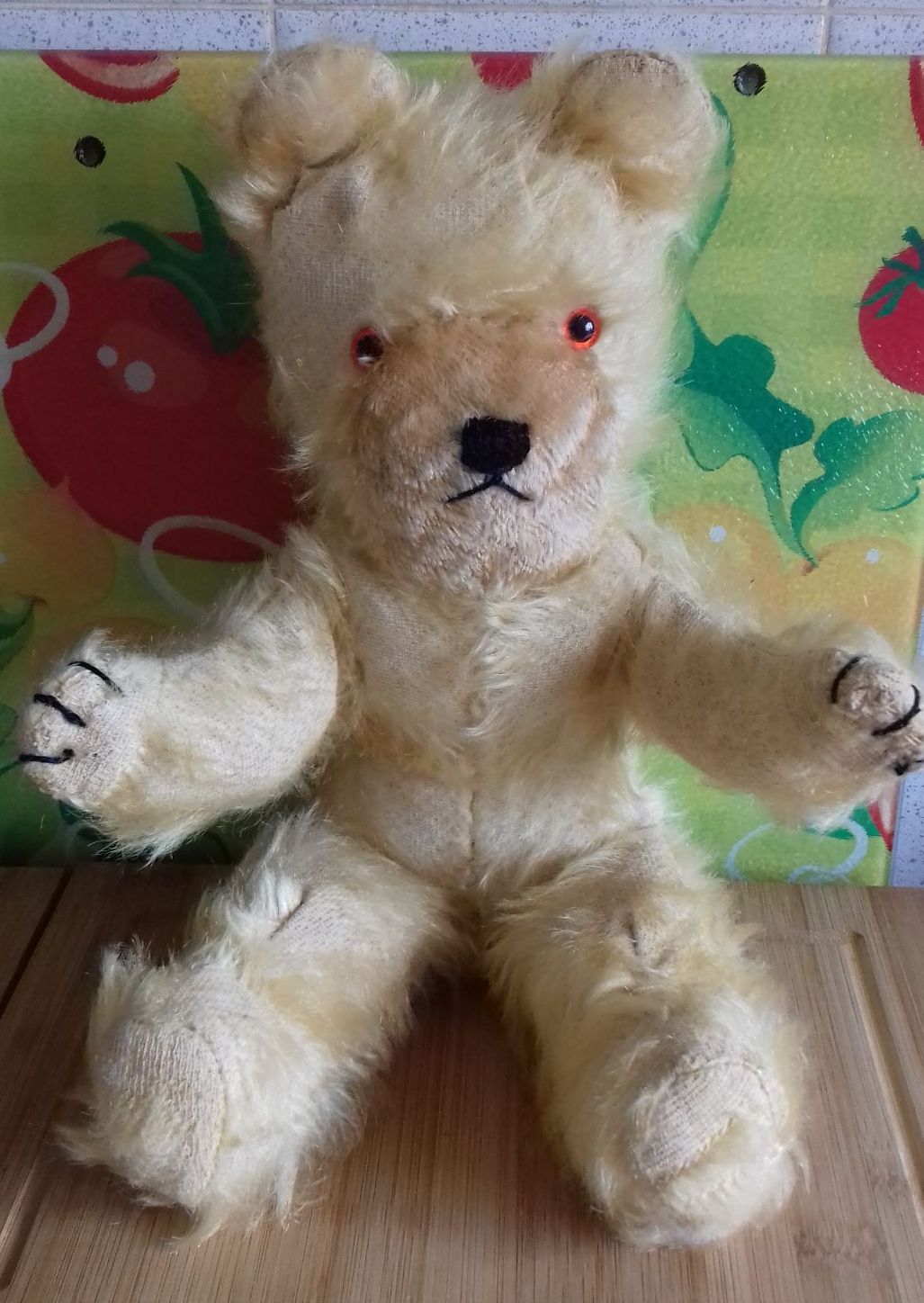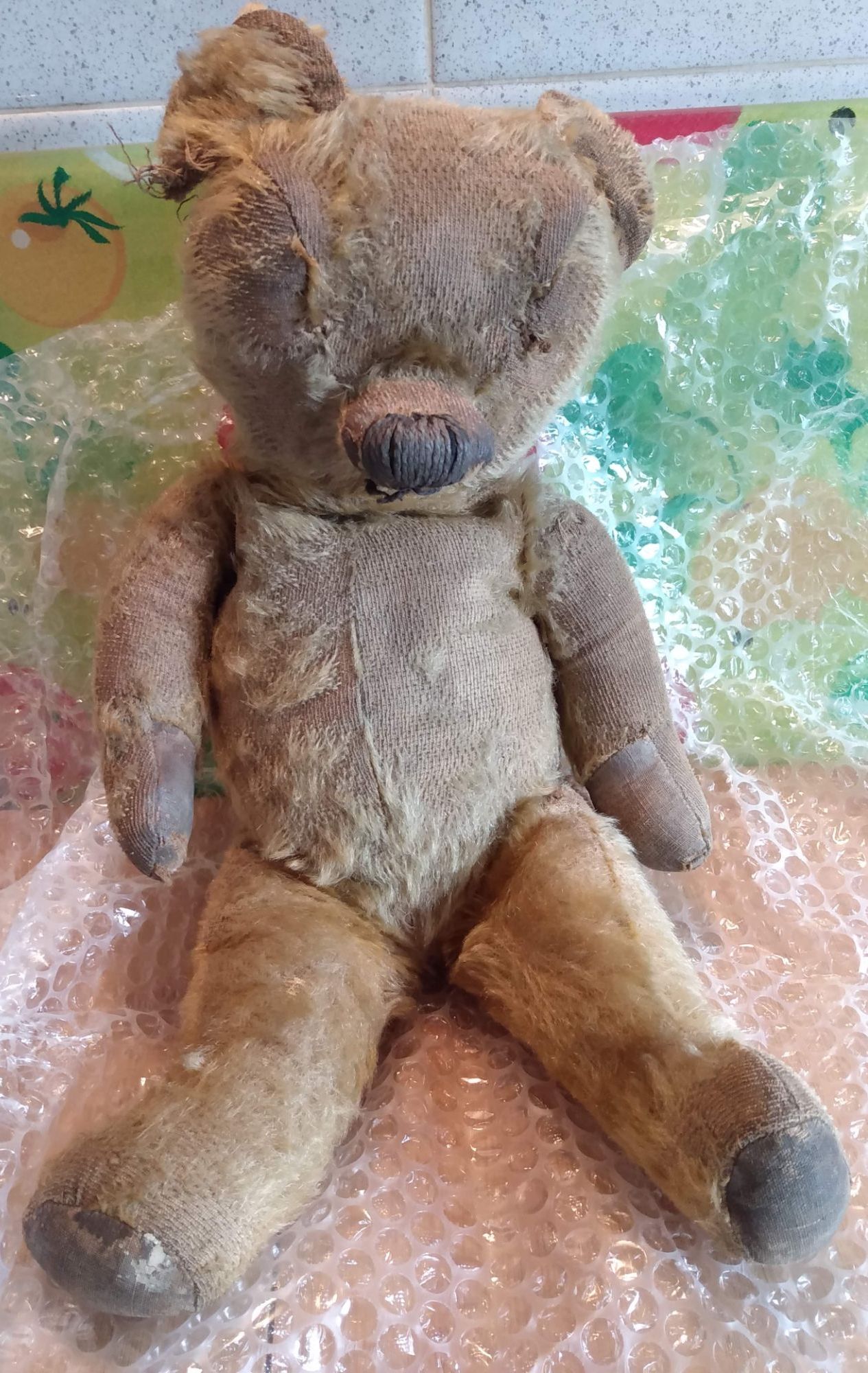 Poor teddy arrived at Ambrosia Place feeling very sorry for himself. He'd managed to lose his eyes and his growl, and his hands and feet were very uncomfortable. The bears briught him inside and gave him a hug; then they set to work. Teddy was cleaned and brushed, and then given a splendid new growl. Ambrosia found some sweet glass eyes for him, and then she set about mending his sore hands and feet. She very carefully stiched on some lovely new pads for him. Finally, his nose and mouth were tidied up. Teddy couldn't believe it when he saw himself in the mirror afterwards!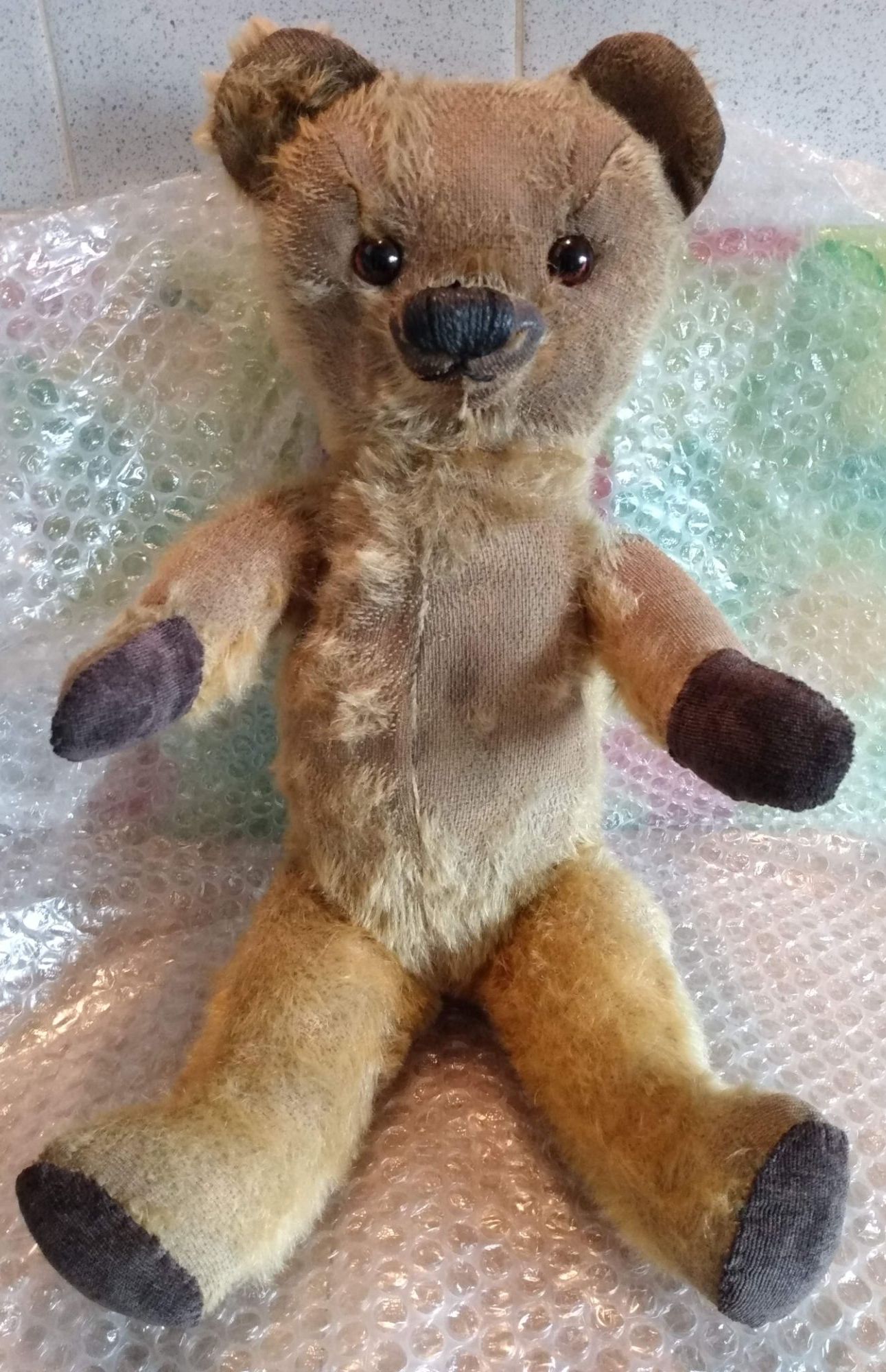 This absolutely gorgeous teddy arrived at Ambrosia Place very soon after. During his travels, he'd lost an eye, the other was hanging on by a thread, his nose and voice had vanished, his pads were in tatters and his little muzzle was ripped. The little treddy wondered if Ambrosia and her friends could do anything to help. They decided to give him a clean and a brush to start with, then he was given a lovely new growl. Ambrosia added new eyes, and gave him a new muzzle; then she carefully embroidered a new nose, all ready to be kissed. Finbally, teddy's feet were fixed and he was given lovely new pads. The bears looked at his lovely brown theme and said that he now reminded them all of chocolate buttons, so he became known as Chocolate Button Bear! He was very pleased when he saw himself in the mirro; he felt the brown bow just topped everything off nicely!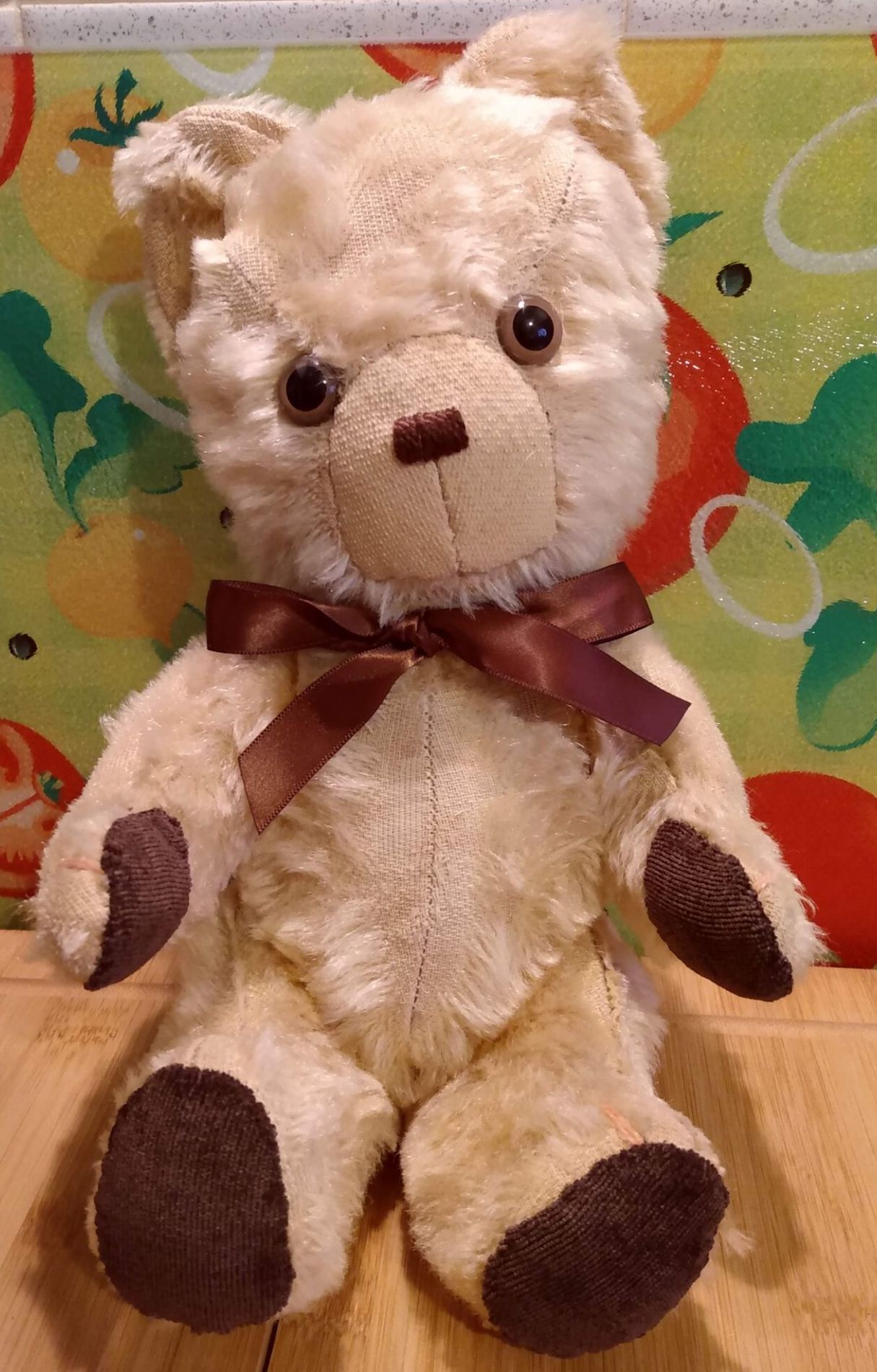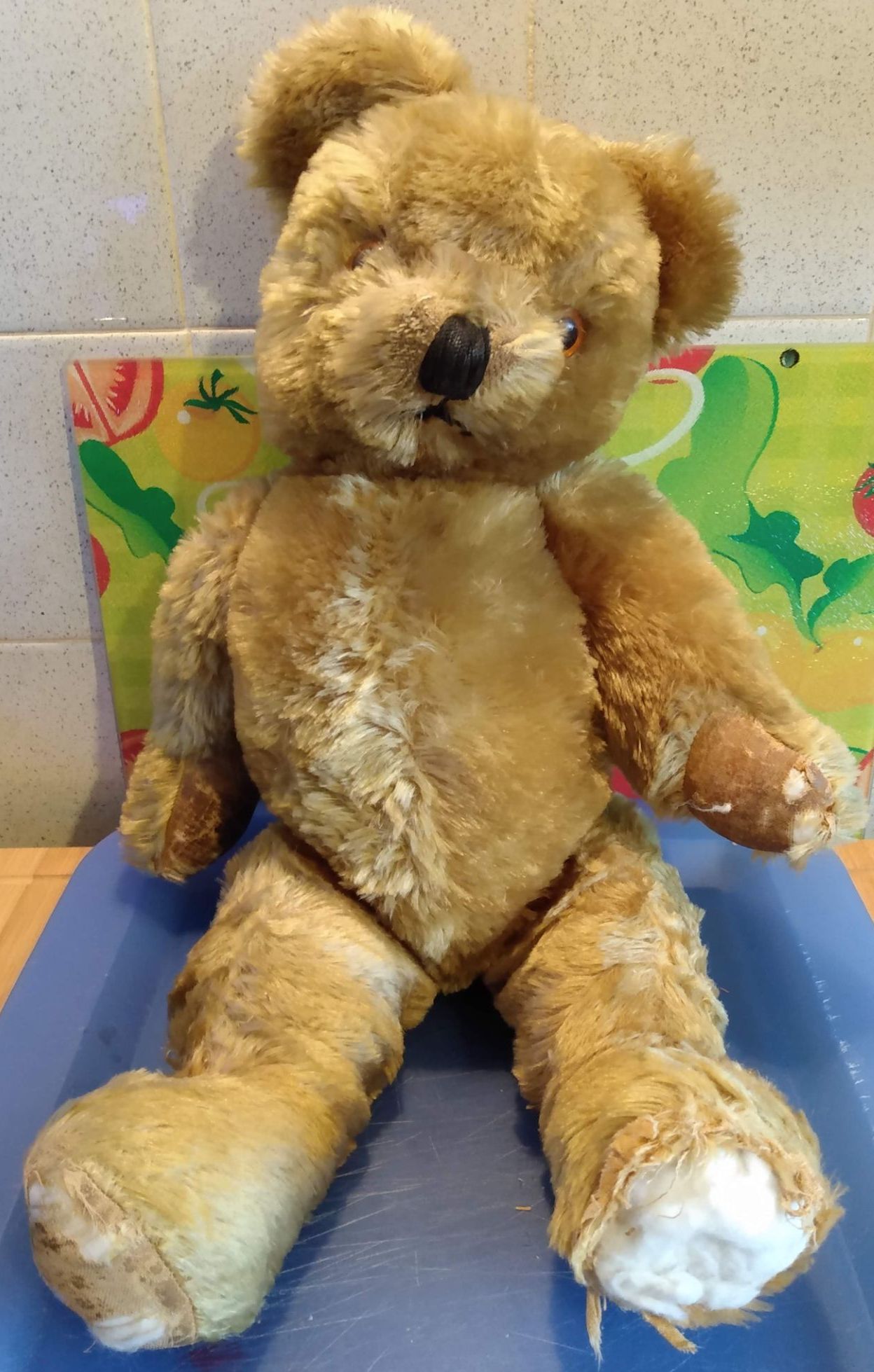 When poor teddy arrived at Ambrosia Place, he was feeling rather sorry for himself. His left leg was spilling its stuffing, his feet were sore, he'd managed to lose his voice along the way, and he was rather grubby. The bears set to work and could see that he was incredibly handsome underneath his troubles! Ambrosia found the perfect growl and gave him a lovely clean and brush. His left leg and foot were stuffed, and then he was given new pads all round. He felt so much better after his treatment, and wouldn't stop growling with delight when he saw himself in the mirror!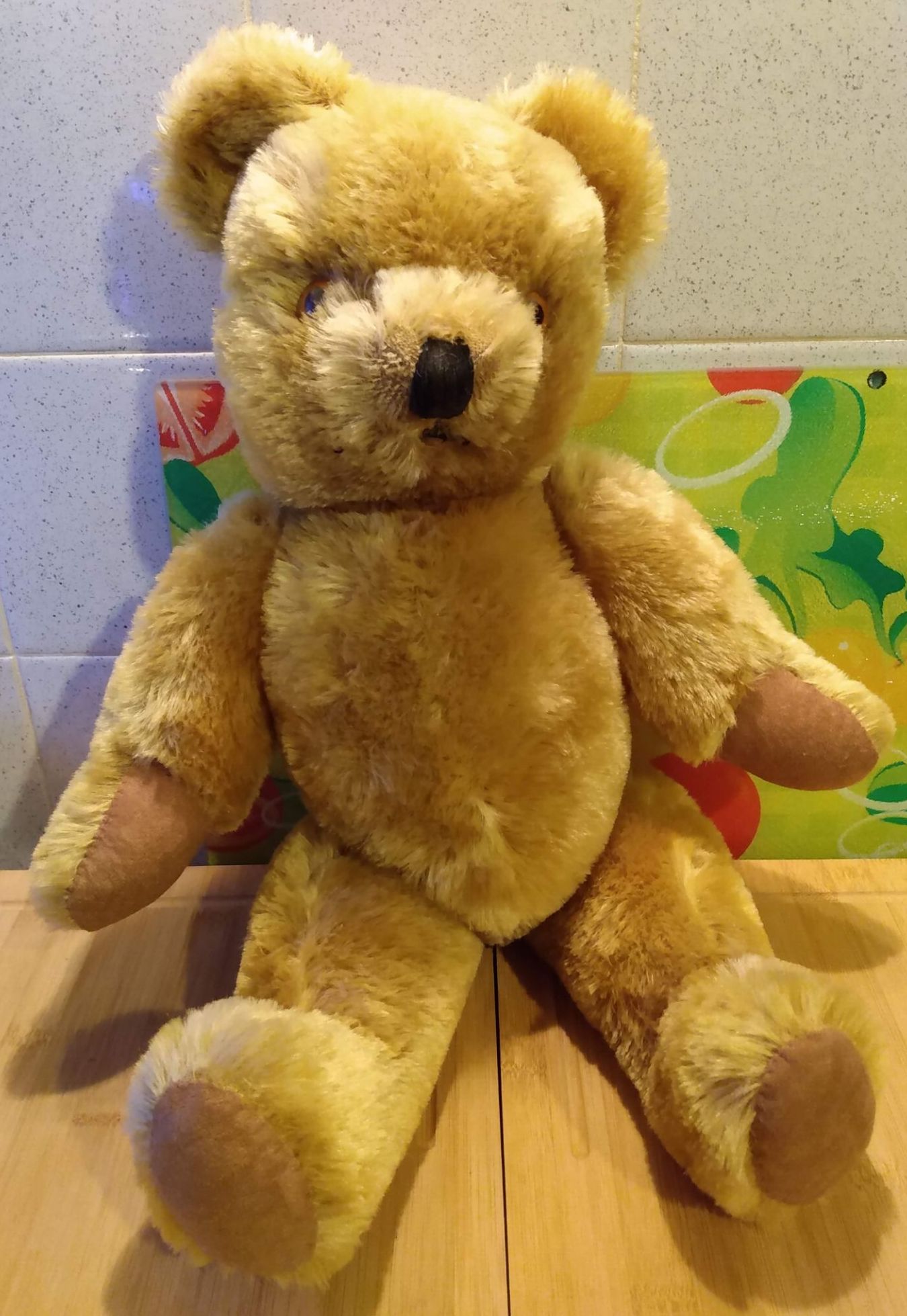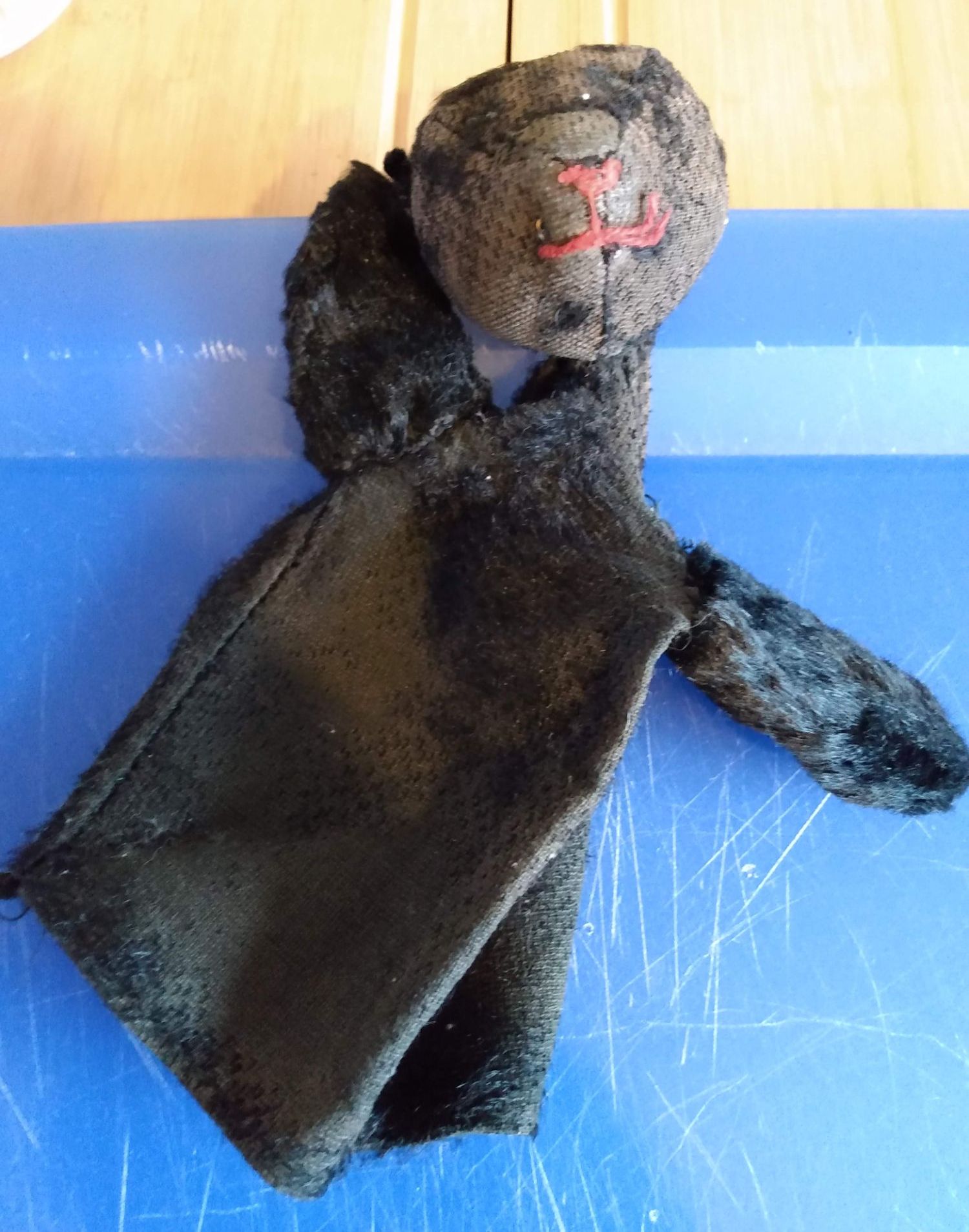 The bears were delighted when a glove puppet called Sooty came to stay at Ambrosia Place. He had been loved so much that all of his fur was gone; he'd also lost his eyes and ears along the way. The bears all thought that a new covering of mohair would be perfect, leaving all of the original Sooty underneath. New glass eyes, fleece ears and a new nose and mouth later, Sooty looked as if Time had sped backwards and he was all new again! Doesn't he look incredibly handomse?


The bears at Ambrosia Place felt utterly delighted, as well as extremely privileged, when an American 1920s bear arrived for a spell. Poor Joey's eyes had been removed immediately by his first owner for safety reasons and, once Ambrosia had finished working on him, he saw properly for the first time in almost a century! He was given new paw pads, a few lost claws were re-embroidered, as was his nose - which had been kissed away - and he was treated to an external clean and brush. He felt the decades drop away and was so happy when he saw himself in the mirror!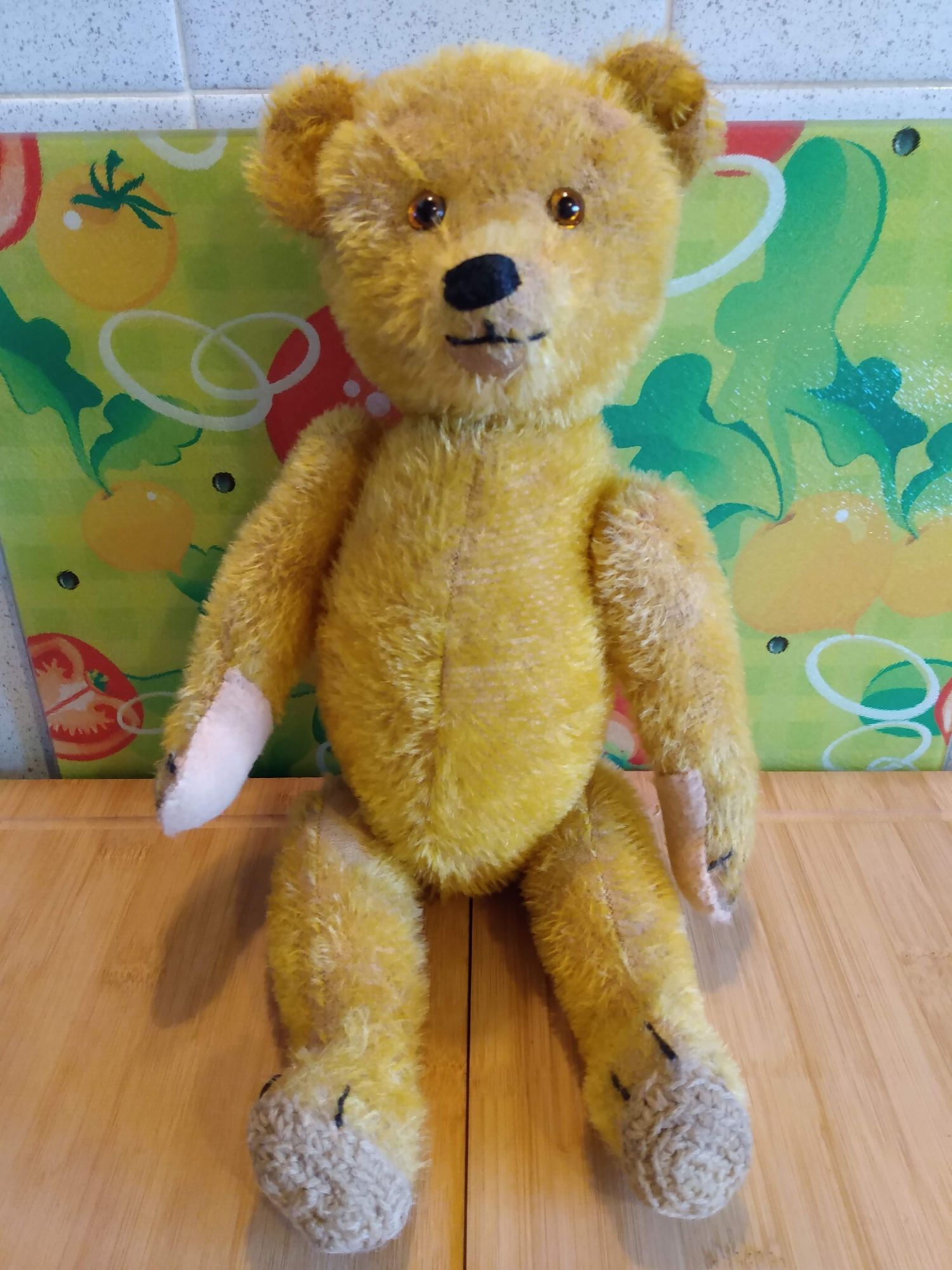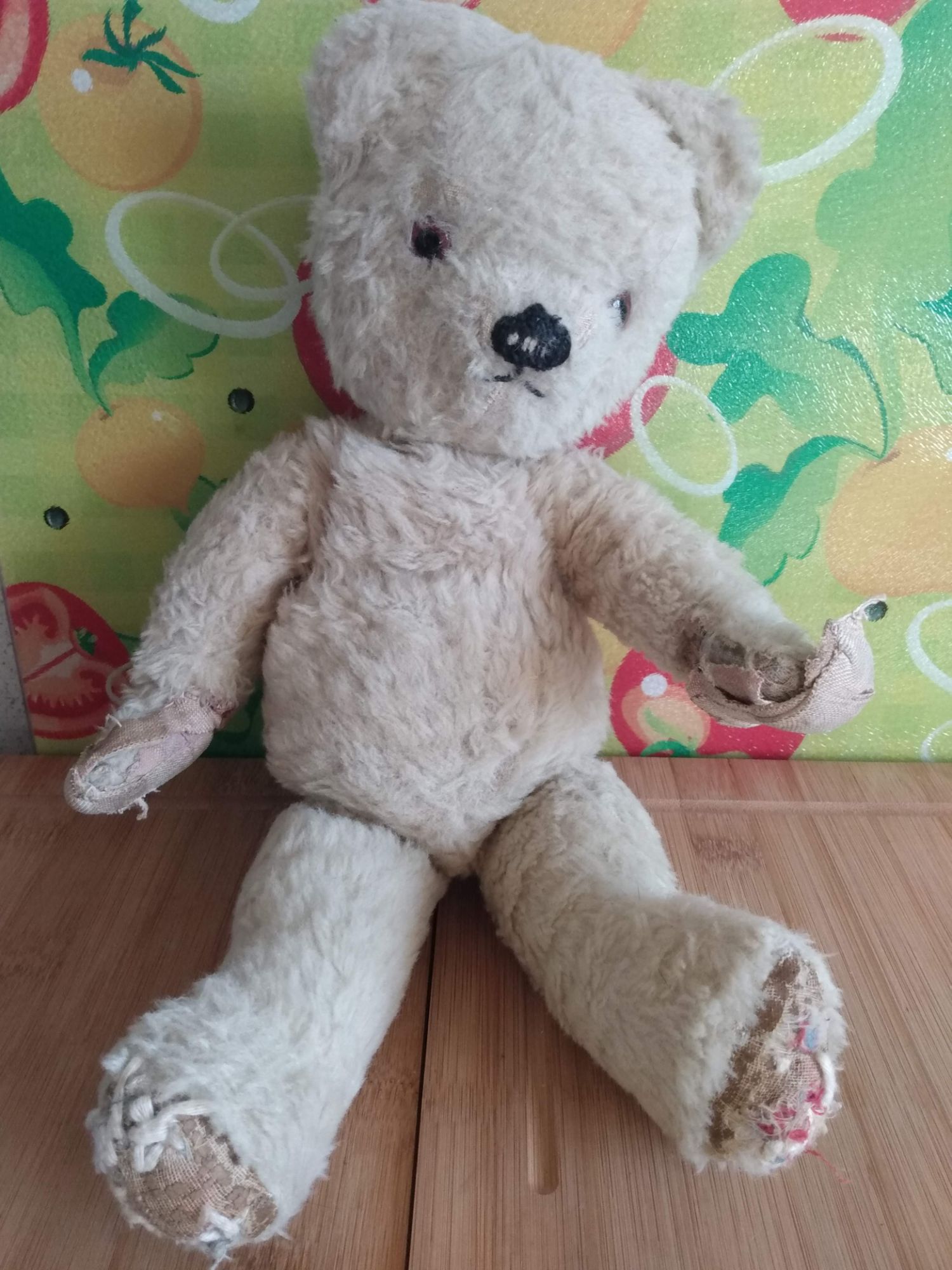 This gorgeous little bear came to stay at Ambrosia Place for the usual restoration work. His head had been porrly stitched back on and so it was properly re-jointed. His defunbct squeaker was replaced so he could talk again, and he was given an external clean and a brush. His nose, which had been kissed so much that it was startign to fall apart, was cafrefully re-embroidered by Ambrosia herself. The sticky plasters were carefully removed from his sore paws, and then new pads were stitched on all round. He did feel lovely when he saw himself after his spa treatment!